Integrated Korean Textbook: High Intermediate 1
Integrated Korean Textbook: High Intermediate 1
By Sumi Chang, Hee-Jeong Jeong, Ho-min Sohn, Sang-Seok Yoon
ISBN-13: 9780824877927
Published: December 2018
Developed collaboratively by leading classroom teachers and linguists of Korean, High Intermediate replaces Advanced Intermediate as the third-year textbook in the popular Korean language-learning series Integrated Korean. All volumes are developed according to performance-based methodology and principles: contextualization, learner-centeredness, use of authentic materials, function/task-orientedness, balance between skill-getting and skill-using, and integration of speaking, listening, reading, writing, and culture. Grammar points are systematically introduced with simple but adequate explanations and abundant examples and exercises.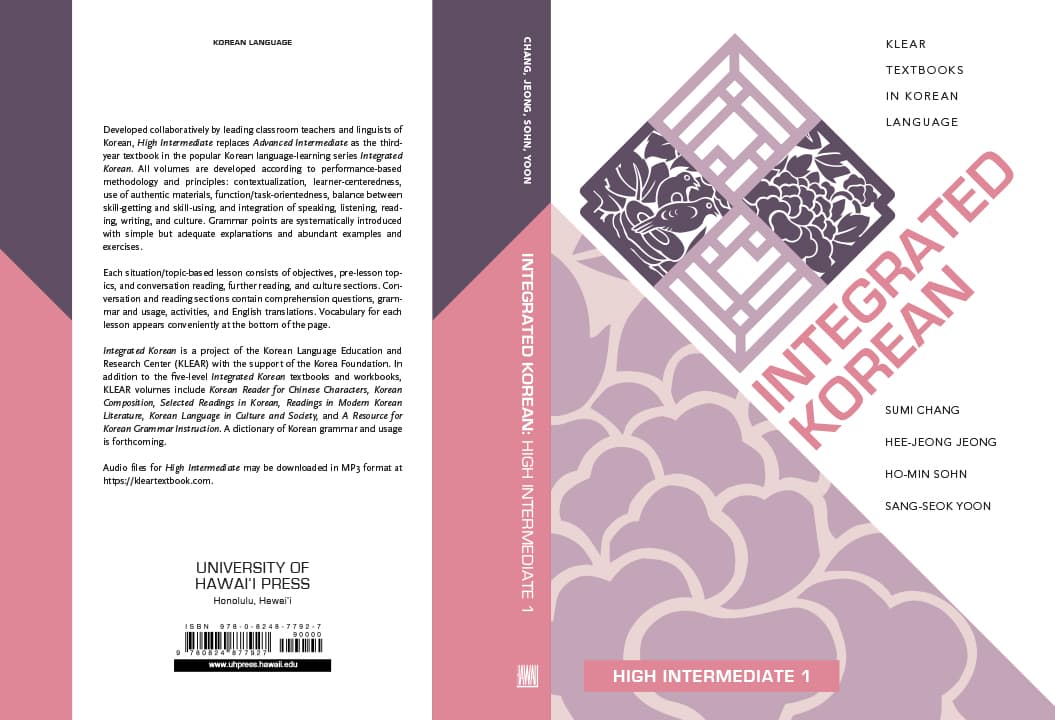 Each situation/topic-based lesson consists of objectives, pre-lesson topics, and conversation, reading, further reading, and culture sections. Conversation and reading sections contain comprehension questions, grammar and usage, activities, and English translations. Vocabulary for each lesson appears conveniently at the bottom of the page.
Integrated Korean is a project of the Korean Language Education and Research Center (KLEAR) with the support of the Korean Foundation. In addition to the five-level Integrated Korean textbooks and workbooks, volumes include Korean Composition, Korean Language in Culture and Society, Korean Reader for Chinese Characters, Readings in Modern Korean Literature, A Resource for Korean Grammar Instruction, and Selected Readings in Korean.